Our Philosophy
As dental hygiene and overall health are vital, we strive for a comprehensive and lifetime treatment program in Rock Hill, South Carolina. Need help with your dental care plan? We'll create one that's tailored to your needs and also helps you maintain a beautiful smile and properly aligned teeth for the years ahead. Let us help you keep that grin glowing!
If it's time to schedule your next dental cleaning and teeth whitening in Rock Hill SC, trust River District Smiles Dentistry. We provide checkups and cleanings to patients of all ages. Our preventive dental care experts are proud to offer the latest technology and treatments in a comforting environment.
General & Cosmetic Dentistry In Rock Hill, SC
Our dental practice is dedicated to giving patients a great dental experience. Dr. Matthew Hubis, Dr. Emily Hubis, and our entire dental team are dedicated to delivering the most comprehensive dental services and corrective dental procedures available for you in Rock Hill, South Carolina and the surrounding areas.
Rock Hill Dental Services
At River District Smiles, our experienced team of dentists specializes in providing comprehensive dental services – from preventive care and restorative dentistry to cosmetic procedures. We strive to provide the highest quality care, using the latest technology and techniques to help you achieve your best smile.
Injured Tooth? In Pain? We Offer Emergency Dentistry
When facing dental issues, it's impossible to wait until the next few weeks to call a dentist or dental hygienist for a dental emergency. Our family dental office in Rock Hill treats this urgent matter extremely seriously, and our team will make everything possible for you to see them immediately.
In case you need dental surgery or an emergency dental procedure, you can trust our team to professionally treat dental problems and get you the treatment you need in a timely and convenient manner. With years of experience, our dental specialists are well-versed in the latest techniques and procedures, ensuring that all of your dental needs are met with the highest level of quality.
We pride ourselves on providing safe, effective treatments that leave you smiling along with optimal oral health. Our goal is clear – get people (both new & existing patients) relief quickly with the least amount of fuss and in the best way possible.
WHAT CAN I EXPECT DURING DENTAL CHECKUPS?
It always helps to be prepared! Our team will do everything possible to make your next visit pleasant and comfortable. Here is what you can expect when you arrive for your complete checkup:
Professional Teeth Cleaning
Is it time for your next cleaning? Our hygienist performs a thorough cleaning to remove built-up plaque and tartar. Regular cleanings reduce your chance of developing cavities, gum disease, and other dental health concerns. Cleanings also freshen your breath and brighten your teeth for a selfie-ready smile with our professional teeth whitening service in Rock Hill SC!
Full Examination
Checkups are important! A member of our skilled team will perform a complete dental examination, including your teeth, gums, and tongue. This will include any existing dental restorations, such as dental implants, fillings, crowns, or bridges. We will check for signs of dental cavities, disease, infection, and other concerns. This allows us to assess your oral health and make dental treatment recommendations as needed.
Digital X-rays
X-rays allow us to examine the health of your teeth, gums, and jawbones. They play an important role in diagnosing and treating a variety of conditions or when you prefer cosmetic dentistry performed. Because they are digital with high-resolution dental images, your results will be ready for review instantly.
Oral Cancer Screening
Early detection and intervention are critical when it comes to fighting cancer. Our team performs oral cancer screenings to look for signs of cancerous and precancerous conditions, such as lumps, sores, or white patches on the gums.
Dr. Matthew Hubis
For all of his years as a General Dentist since 2007, Dr. Hubis has prided himself on far exceeding the continuing education requirements for licensure. His studies have taken him to many parts of the United States and a few foreign countries.
Dr. Emily Hubis
She likes to apply the "southern hospitality" she was raised with to dentistry, and she enjoys interacting with patients and providing quality dental care in a friendly, compassionate, and relaxed environment.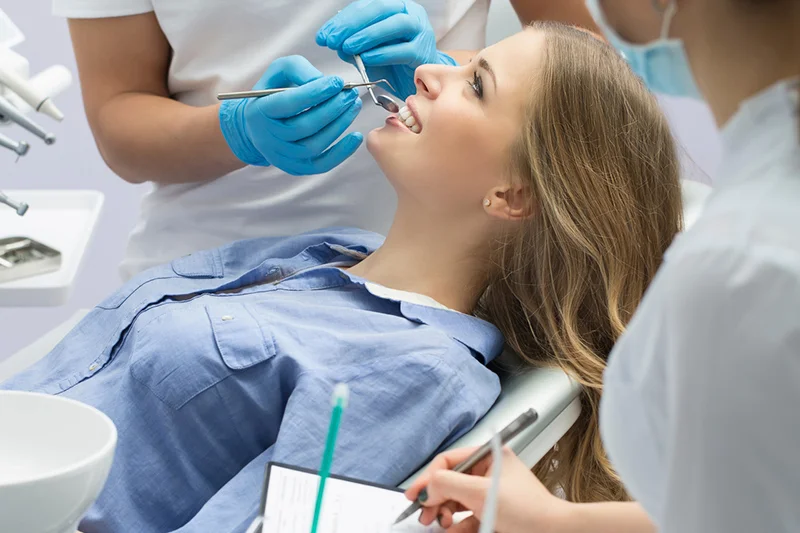 How Often Should I Get Dental Checkups?
The American Dental Association recommends visiting your local dentist for a complete checkup twice a year. While your dental healthcare needs are unique, you should schedule regular visits to keep your smile healthy!
What Do You Get for a Dental Checkup?
When you go in for an exam, your dentist may ask about your overall health, including how well the tooth is healing and how many medications you take. Take a look at your teeth.
When Should be the First Dental Checkup?
Dental checkups are an important part of maintaining good oral health. It is recommended that children should have their first dental checkup by the age of one or within six months after the first tooth erupts. Regular dental checkups can help detect any problems early on and prevent them from getting worse. During a dental checkup, your dentist will assess the overall health of your teeth and gums and advise on keeping them healthy.
Do You Accept Walk-ins and Same-Day Appointments?
At River District Smiles Dentistry, we welcome walk-ins. Our team makes sure to see our patients as promptly as possible. If you've experienced a dental injury, we also offer emergency appointments as scheduling permits. For gentle same-day care, call or visit your trusted local Rock Hill dentist today!
LEARN MORE ABOUT GENERAL DENTISTRY
TRUST YOUR LOCAL ROCK HILL DENTISTS FOR GENERAL DENTISTRY!
Choose River District Smiles Dentistry for your family's general dentistry needs! Call your trusted Rock Hill dentists at (803) 590-9525 to schedule an appointment today. We create smiles you can be proud of, providing unparalleled patient service every step of the way!